Acorns Nursery School Cirencester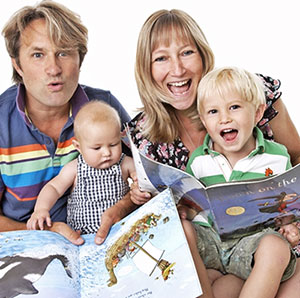 Acorns Nursery School has been the first choice for thousands of families for over half a century, since its establishment in 1952. It is family run by Helen and Miles Guerrini who took over in 2005 and whose mission is to provide the very best early years education possible.
Acorns is a 'hidden gem' in the centre of the old market town. It has often been described by visitors and parents as surprisingly Tardis – like, or labyrinthine, as behind the unassuming gate lies four gardens surrounded by a collection of beautiful Cotswold stone buildings.
Parking is by our back gate on Castle Street or just two minutes walk away in The Brewery / Tesco car park.
We are registered with Ofsted and cater for children from 3 months to 5 years. We are open from 8am – 5.45pm all year round.
Click on the following for more information about our different age groups:
The Leadership Team
Acorns is owned and managed by husband and wife team Miles and Helen Guerrini, who met whilst completing their Post Graduate Certificate of Education at Cambridge University. Since then, they have made it their vocation to provide the best possible education and care for young children.
Playing to Learn
All children follow the Early Years Foundation Stage curriculum. The four guiding principles of this are: The Unique Child, Positive Relationships, Enabling Environments and Learning and Development.
Food
Providing a healthy balanced diet of nutritious snacks, lunches and teas is a huge part of what we do at Acorns.
Gardens
One of the biggest surprises for people entering Acorns for the first time is the abundance of space hidden behind the unassuming gates.
Mighty Oaks After School and Holiday Clubs
Mighty Oaks After School and Holiday Clubs quite literally grew out of Acorns.
Originally the after school and holiday children came to Acorns until these clubs grew to their current size and moved firstly to CRFC (Cirencester Rugby Football Club) and then to its current home at The Clubhouse.
We also have after school clubs at Ashton Keynes School and Cirencester Primary School.
Click here to visit the Mighty Oaks website.