Documents & Information
Here you will find the latest policy documents and other relevant information for Acorns Nursery:
Policies
Below is a selection of our policies. If there's a specific policy you'd like to see and it's not listed here, just let us know and we'll be happy to show you!
To all the staff at Acorns
Ella started at Acorns when she was four months old, she is now almost 4 years old. I cannot tell you how happy I am with the nursery, the way it is run and the lovely, caring, dedicated staff that work here…
…our children have good home cooked meals…
…what makes you stand out from all the other nurseries in town is the passion with which you run the business, the fact that you put your heart into it…
I could write ten pages of little things every single one of you has done or said to Ella or Ted that made me think how great and caring and dedicated you are. I have never doubted for one second your dedication and your professionalism and when I drop Ella and Ted off in the morning I go to work happy, knowing that I can trust you to look after them well and I've never been disappointed.
I have always felt that I could talk to you and ask for advice on different matters, everybody has always been so helpful and supportive and I cannot tell you how much that means to a worrying parent, so a huge thank you for everything!
All in all I think Acorns is outstanding and excellent in every way and I will always recommend it to any parents looking to child care: definitely the best nursery in town.
Regards,
"To all of the lovely staff at Acorns
Thank you so much for everything that you have done over the last two years. Grace has been truly blessed to be surrounded by such loving, kind, warmhearted people. She has grown so much and I am so proud of her. Thank you for all the support, patience and advice. Without you Grace wouldn't be where she is today… ready to take on big school! She will miss you all terribly but is looking forward to this exciting new chapter in her life."
"To Helen, Miles and all the staff at Acorns,
My heartfelt thanks and appreciation for the excellent level of care, support and kindness everybody has given Evie since she started Acorns 3 years ago. Evie has gained enormously from being in such a fun, safe and caring nursery. I have always had peace of mind was due to being looked after outside of home.
With our very best wishes for the future!
"We would like to say thank you for having Patrick and Gemma at Acorns over the past years. They have both been very happy at your wonderful nursery, which has meant a lot to us as parents. You have a wonderful team of staff who are dedicated to looking after the children in a fun and caring way."
"I want to personally thank everyone at Acorns for taking such fantastic care of Hunter. He's been with Acorns for 2 years now and loved every day. In particular, I am really thankful for the family approach to care and how loving everyone has been towards Hunter. It is fantastic to be able to leave him and know that he is cared for as he would be at home. "
Dear Miles
Two of my children have had the pleasure to attend your nursery and I wanted to write and let you know how much Acorns Nursery has impacted on our lives. The nursery is a lovely warm, friendly place that Eloisa and Charlotte love, a home-from-home that provides such a great stepping stone to primary school, with fantastic, fun-loving and dedicated staff.
What has made your nursery really standout for our family though is the attention paid to the food provided for the children. Charlotte has many food allergies but you still provide her fresh, home-cooked, nutritious lunches and snacks, endeavoring to ensure her meals are a like-for-like with the other meals provided for the children. You can't imagine what a relief this is for me as a parent, enabling Charlotte to enjoy a nursery setting like any other child, and leaving me safe in the knowledge that Charlotte is in great, capable hands and will enjoy a good home-cooked meal like all the other children. Your amazing chef Lisa, a qualified nutritionist, even bakes fresh gluten-, dairy- and egg-free rolls, cakes etc!
Your nursery is one-in-a-million and your commitment to each child's welfare is amazing. My family and I are extremely grateful to you and all your team.
Warm regards,
We would like to say a very big thank you for Timothy's 3 1/2 years at Acorns. He has thoroughly enjoyed it and it has been so good for him. We have always found the staff to be very helpful and supportive from Jill and Aimee in the office to the hands-on work by the carers. Special thanks to Caroline, Mel, Amy, Jos and Chloe in the pre-school who have been brilliant! And the lovely Mel who moved to babies.
With love,
The results of an anonymous survey revealed these comments:
'The nursery has dedicated and knowledgeable staff that actively promote positive development in both my children.'
'I feel the physical environment of Acorns is excellent and activities are varied. The staff are excellent and really look out for the welfare of the children.'
'My daughter comes home tired but happy. What more needs to be said!!'
'I honestly can't think of anything to improve – I'd just say carry on with what you are currently doing.'
'I think my child has developed a better sleeping pattern and eats more exciting foods than I would make every day.'
'My children are very confident and sociable as a result of the time spent with you. They have learnt to respect others, they are warm and caring.'
Why do my clothes get so dirty at nursery?
Click or tap on a pin to find out why…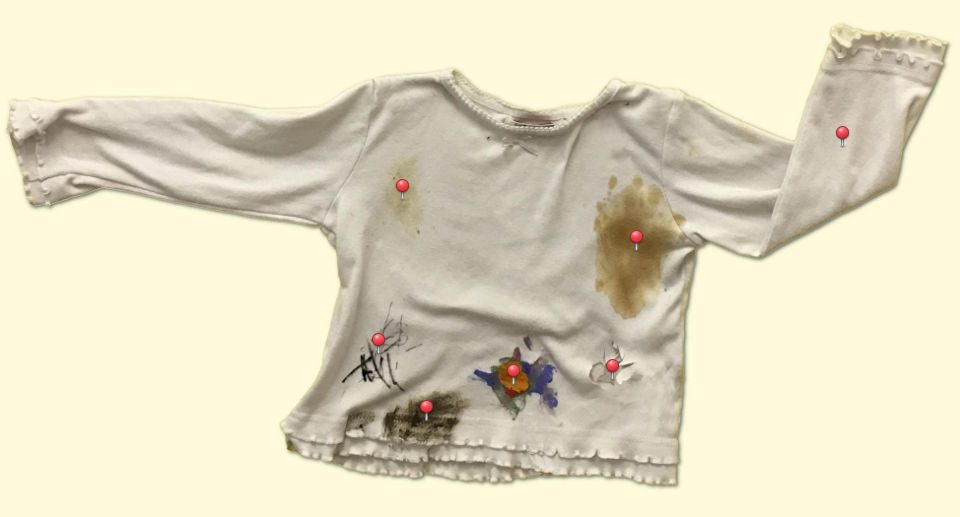 Stain
This dirty stain shows that I have been playing outside today. Running, jumping and climbing trees helps me to develop my coordination and spatial awareness. These big movements will help me later with my smaller movements like drawing and writing.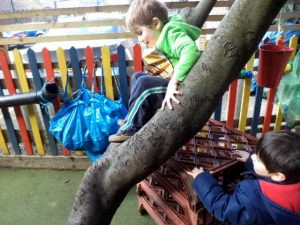 Wet
Sometimes my clothes come home a little bit wet. I learn a huge amount of science and maths when I play in the water.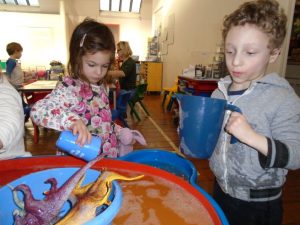 Splodge
This splodge is part of my lunch! I am trying so hard to use the cutlery without any help when I eat.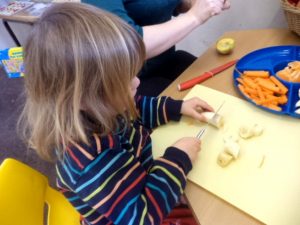 Pen Marks
The black mark was made by a pen. I am trying so hard to develop my writing and drawing skills.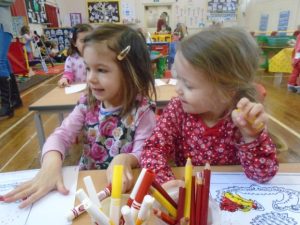 Paint!
Painting helps me to develop my creativity. Even when I use my apron I sometimes accidentally get paint on my clothes while I create my latest masterpiece.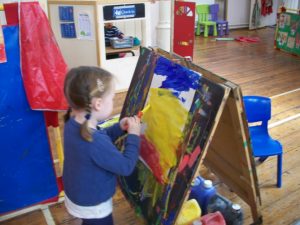 Scissors!
Ooops! This was a little accident! Next time I need to be more careful when using the scissors.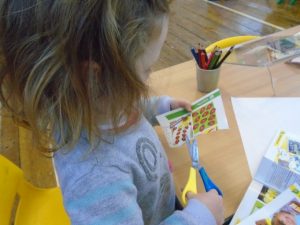 Mud!
The mud kitchen is very messy but I really like playing there. It helps me to develop my imagination and use descriptive language.