Food
Providing a healthy balanced diet of nutritious snacks, lunches and teas is a huge part of what we do at Acorns.
We have a varied, vigorously researched three weekly rotating menu that reflects and educates about cultural and seasonal differences.
We are committed to the highest standards of fresh produce and presentation.
We have two chefs, Caz and Sarah, who take it in turns to produce the main meal of the day or the afternoon tea shift.
Caroline Newton (or Caz as she is affectionately known) is passionate about food for the under fives. Caz has 40 years of catering experience, a NVQ Level 3 in Supervising Food Safety in Catering and has taken specific courses in nutrition, 'Fussy Eating' and allergy awareness whilst at Acorns to help her excel in the particular challenges of this demanding position. Caz has worked for Acorns for the best part of a decade and within that time has provided bedrock for nutrition at the heart of the nursery.
Sarah is a fully qualified chef with eight years in the industry (including at made by bobs and jolly nice ) and also has her own preschooler to fuel her passion and insight.
Together, Caz and Sarah tirelessly experiment and reinvent to polish and tweak the menus in order to maintain very high nutritional standards with fresh local produce (all our meat comes from Jesse Smiths), to highlight cultural and seasonal differences, and to cater for the tastes and expectations of the children (sometimes hiding vegetables other times showcasing them).
Parents often remark that their children have better lunches and snacks than they do!
Caz Newton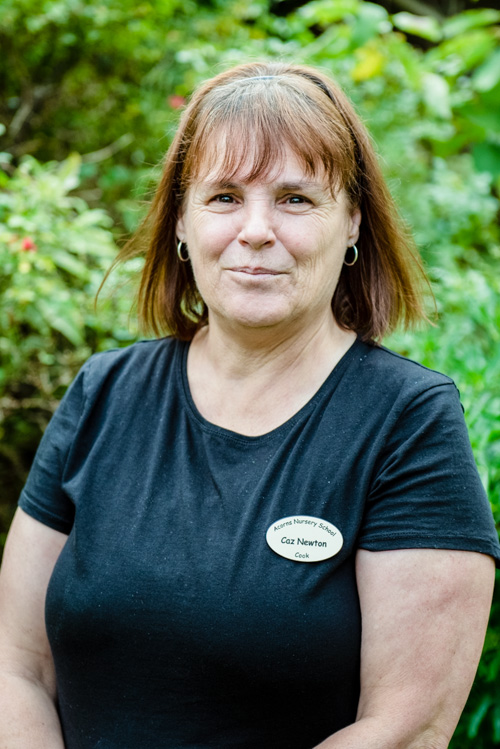 Sarah Parker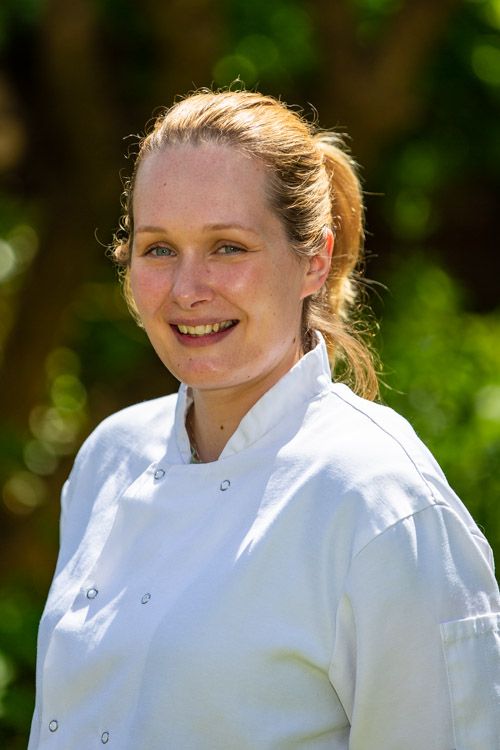 Testimonial
Dear Miles
Two of my children have had the pleasure to attend your nursery and I wanted to write and let you know how much Acorns Nursery has impacted on our lives. The nursery is a lovely warm, friendly place that Eloisa and Charlotte love, a home-from-home that provides such a great stepping stone to primary school, with fantastic, fun-loving and dedicated staff. 
What has made your nursery really standout for our family though is the attention paid to the food provided for the children. Charlotte has many food allergies but you still provide her fresh, home-cooked, nutritious lunches and snacks, endeavoring to ensure her meals are a like-for-like with the other meals provided for the children. You can't imagine what a relief this is for me as a parent, enabling Charlotte to enjoy a nursery setting like any other child, and leaving me safe in the knowledge that Charlotte is in great, capable hands and will enjoy a good home-cooked meal like all the other children.
Your nursery is one-in-a-million and your commitment to each child's welfare is amazing. My family and I are extremely grateful to you and all your team.
Warm regards,
Mrs Kathy Marston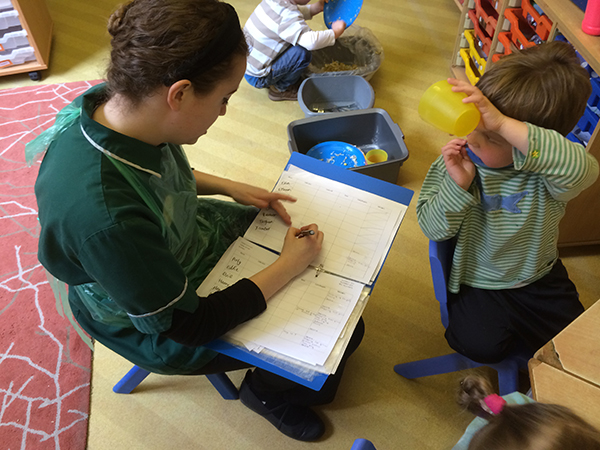 Recording children's meals to provide feedback for parents.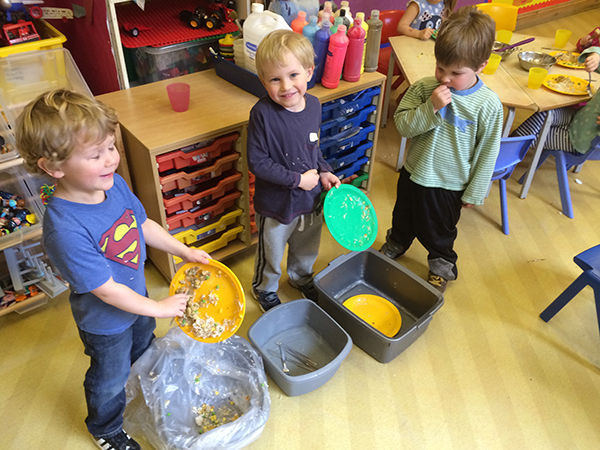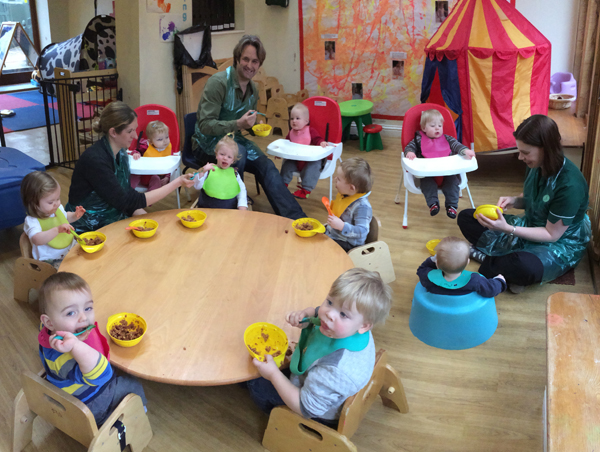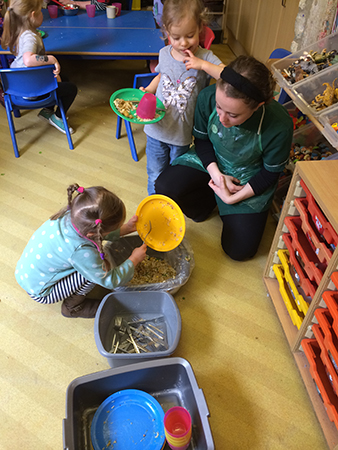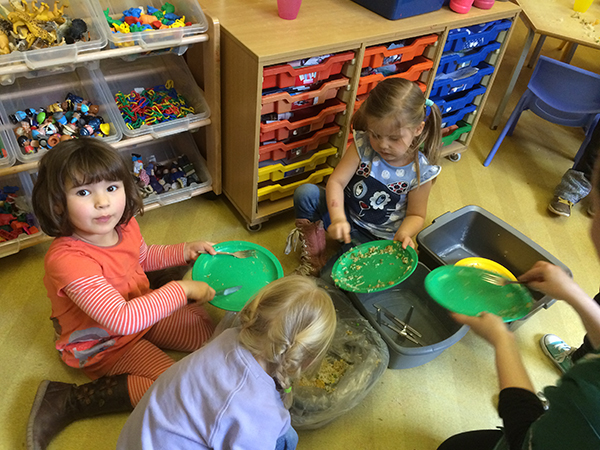 Training the children to clear their own plates.
Owner Miles Guerrini dons an apron and lends a hand.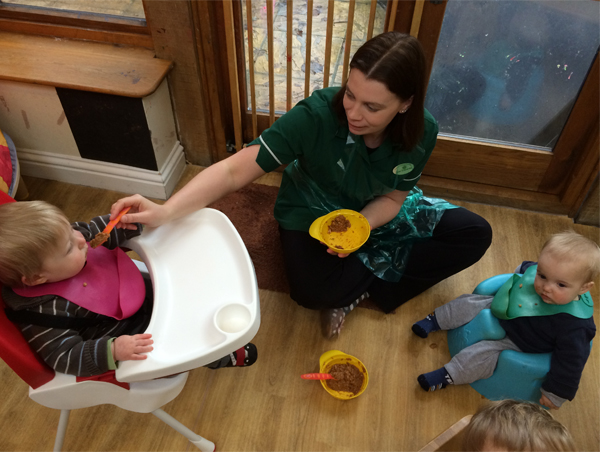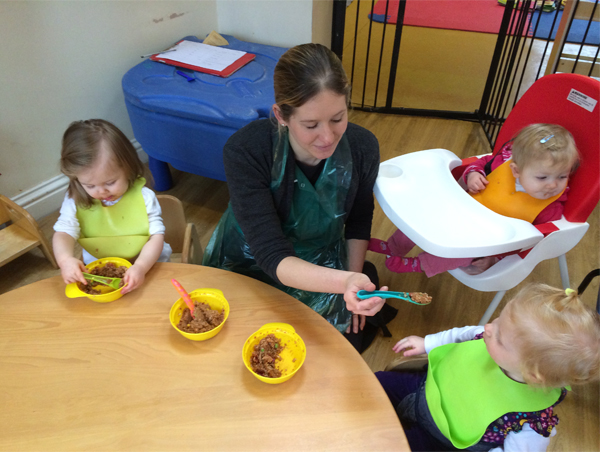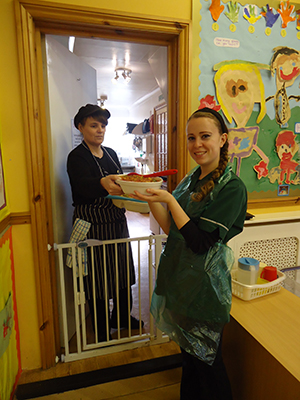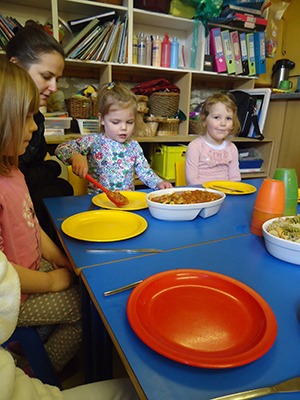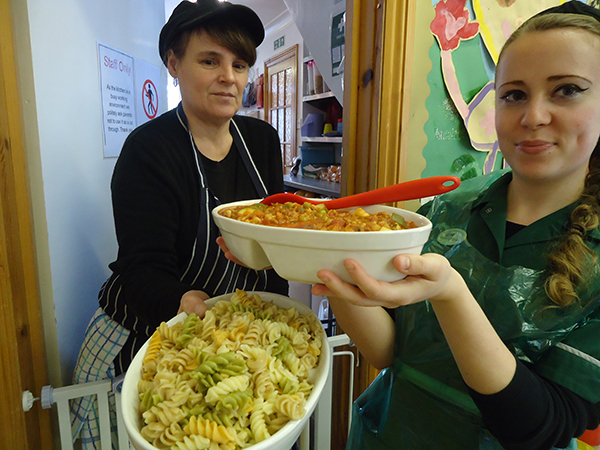 Different coloured pasta twists make this dish look more appealing but we also mix in wholemeal pasta to boost the nutritional content. Our special recipe tomato sauce has key vegetables on display for the children to taste individually and discuss but it also has plenty of others expertly hidden.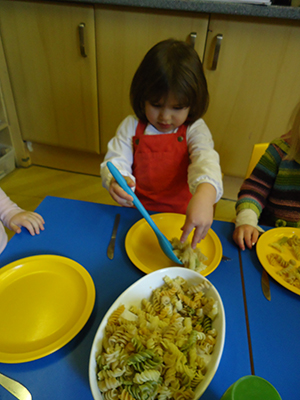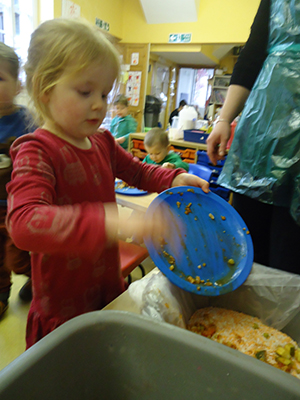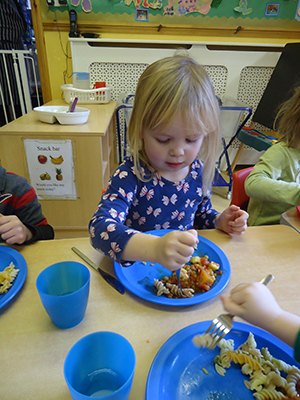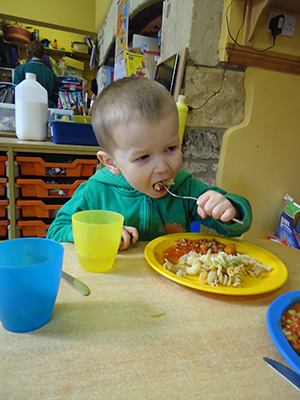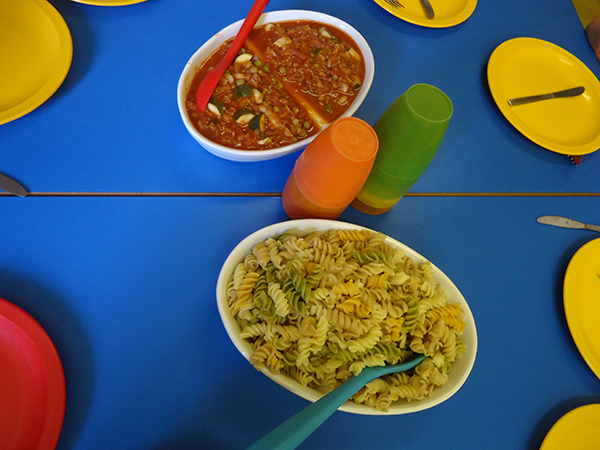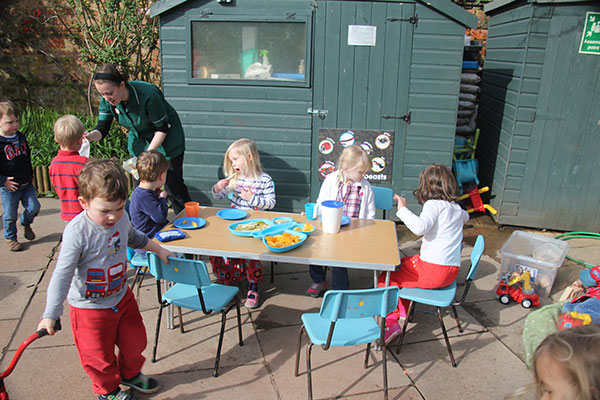 When possible we eat outside.
Giving Thanks for the Food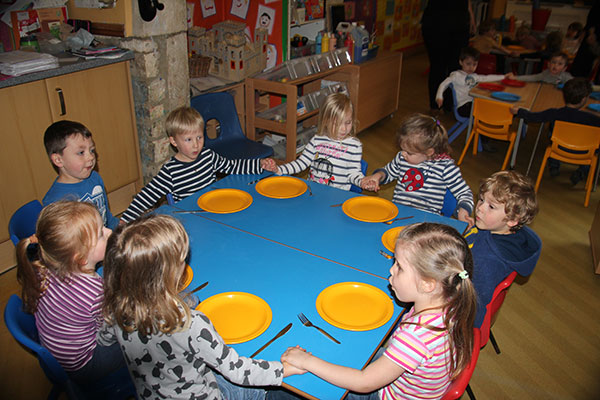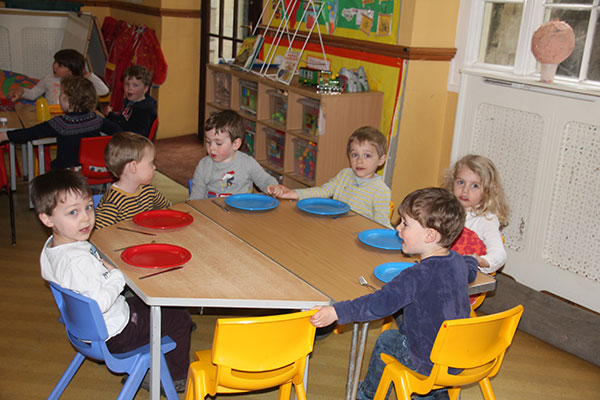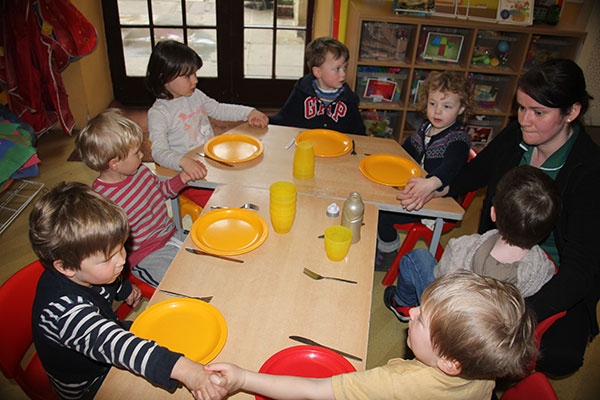 We all hold hands and quietly say 'Thank you for our food today'.
Chinese New Year
At Chinese New Year the children help to make culturally appropriate dishes and then ate them along with plenty of discussion.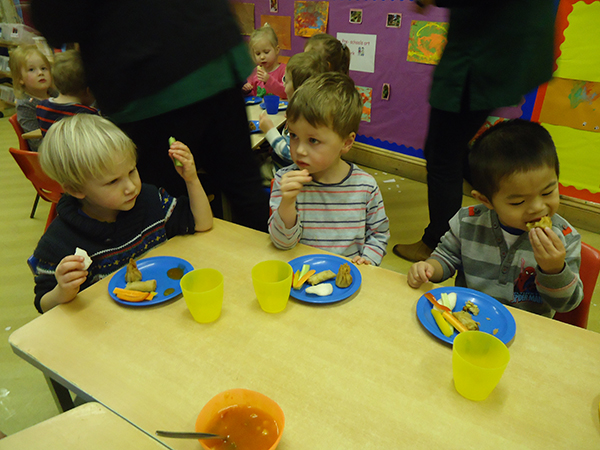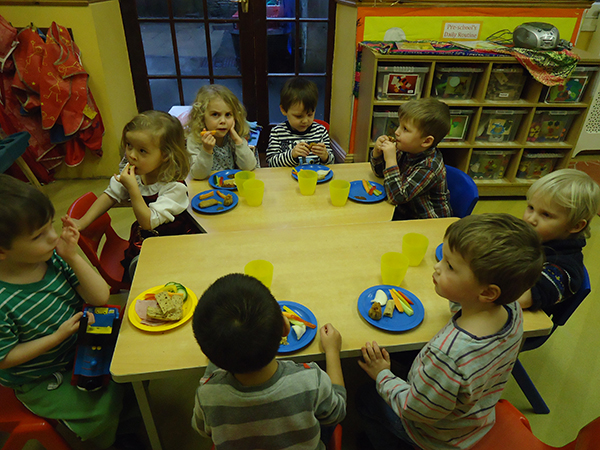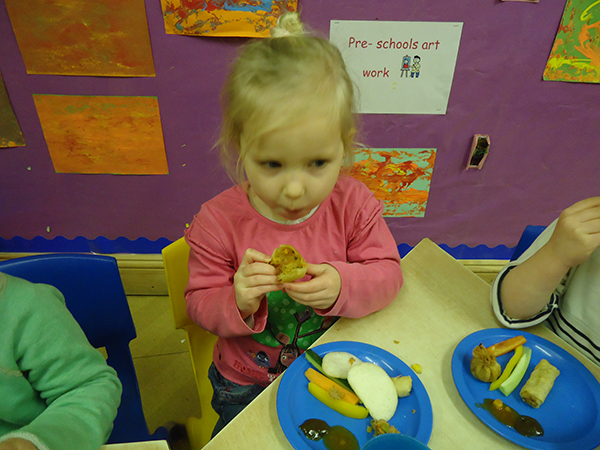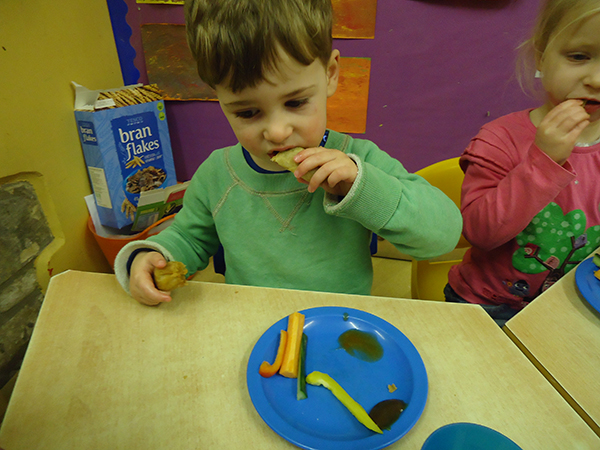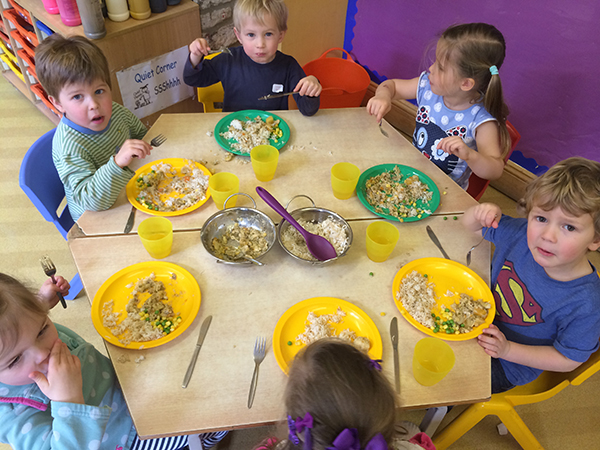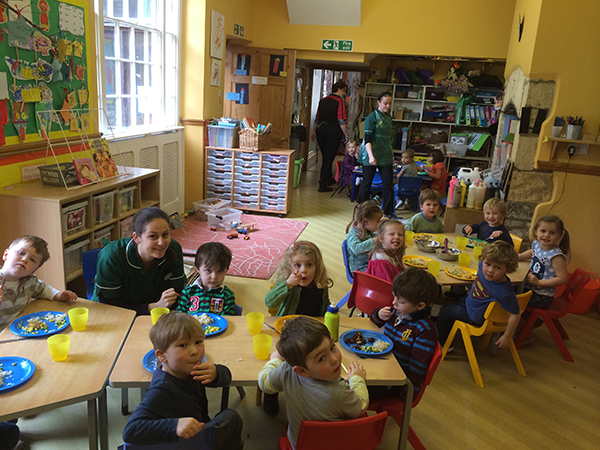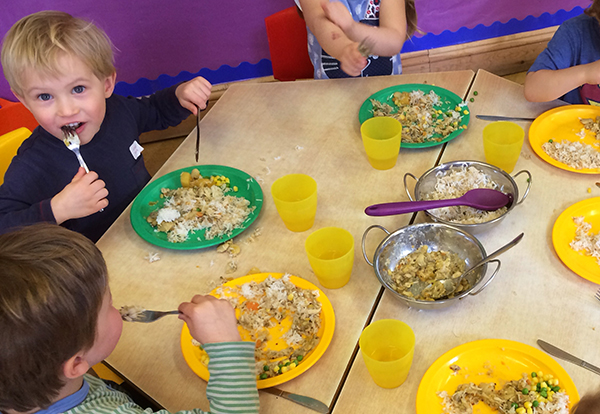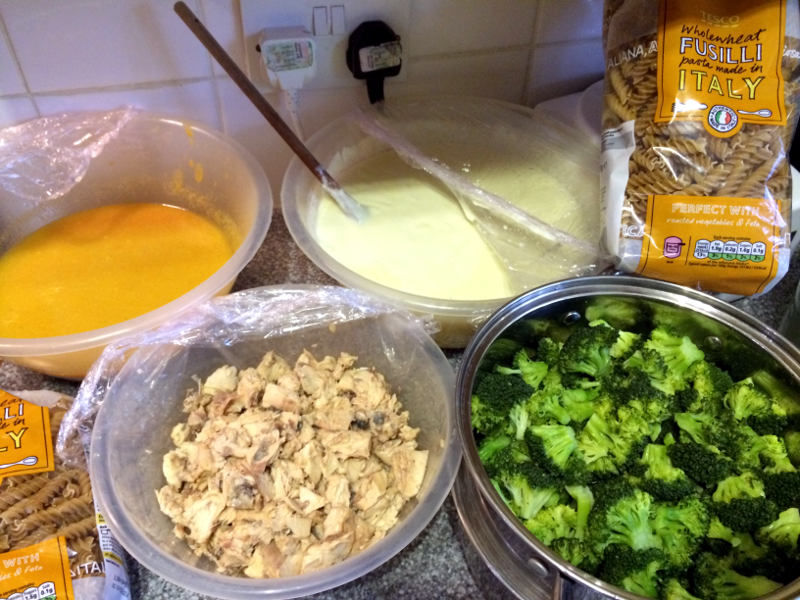 Salmon and Broccoli pasta preparation.
Salmon and Broccoli pasta served with a smile!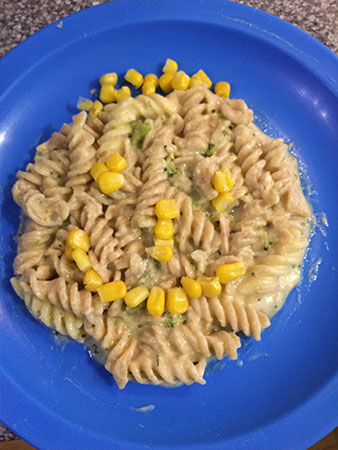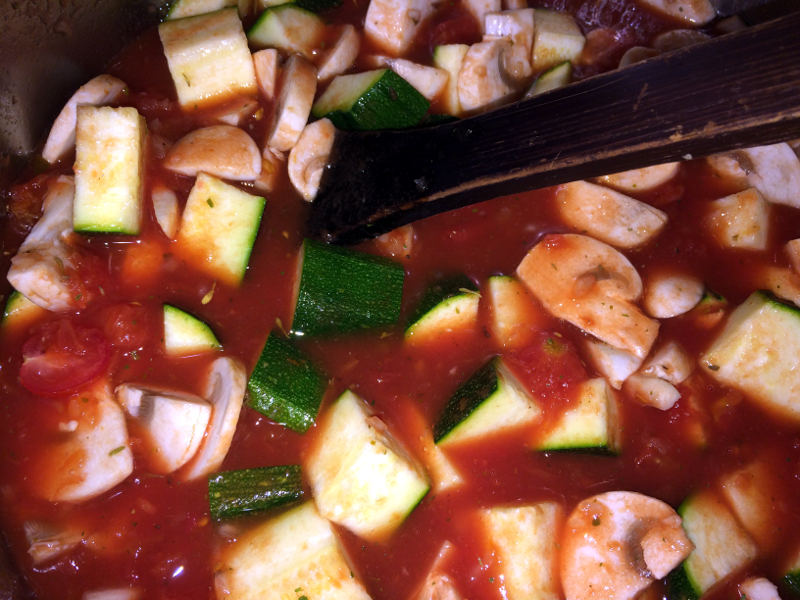 One of our afternoon teas is ratatouille which includes mushrooms, courgettes, aubergine, tomato, and hidden vegetable sauce. It is served with potatoes and grated cheese.